Boats are expensive and prices are only going up. Sometimes boats are dull, scratched, dinged and dented. This is why we offer a complete refurbishment service to bring your boats back to life.
5 years old, 10 years old, 20 years old, it doesn't matter. We can make the exterior of your boat look like new again. We strip off the paint and primer, make necessary repairs, and paint it to look new. This can be any color you would like!
Want a Pink Empacher? We can do that. Want a Green Filippi? We can do that too.
Want a custom paint job? Definitely something we can do just for you.
Van Dusen 1x

This 20 year old Van Dusen has rowed a lot of miles. The owner of this boat wanted to clean it up and give it a fresh look. Now this Van Dusen looks like new and is ready for another 20 years!
Vespoli 4+s

For smaller programs like Marquette, it is important to maximize the life of every boat in the fleet. These two matching 2002 Vespoli 4+'s were…. rough when they got to the shop. We did all the necessary repairs and gave them a like new look, complete with custom deck stripes!
Pocock 8+

This 2008 Pocock 8+ didn't have any serious damage, but when we sold this boat the team wanted it to look as good as new. So, we stripped it down and gave it a fresh white paint job so this boat looked like it was brand new!
Empacher 2x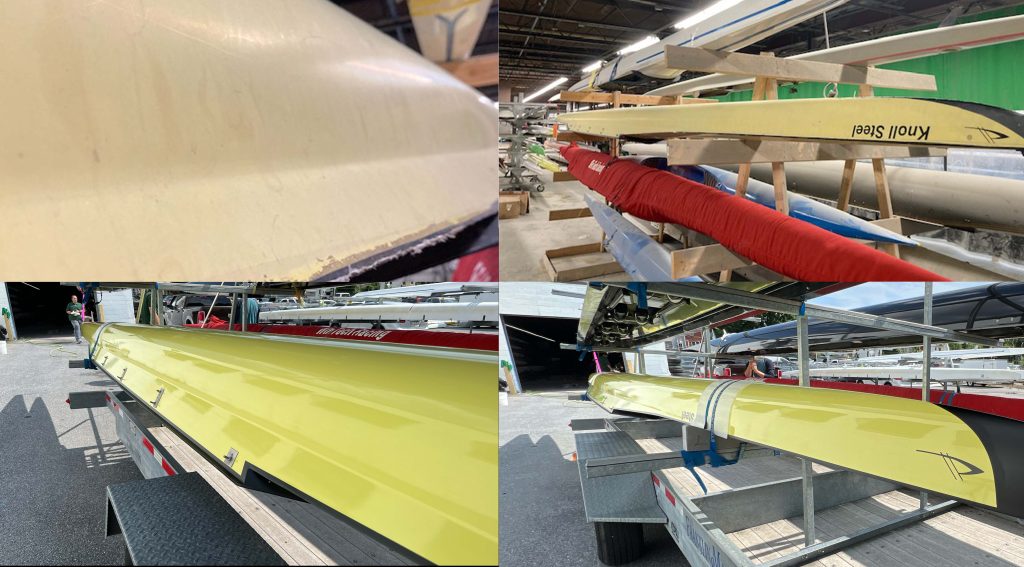 Everyone loves their Empacher's. This was a late 1990's Empacher is used every day and had faded from its original yellow and looked tired and worn out. We repaired a number of dings and dents, gave it a fresh Empacher Yellow paint job. Now this boat will get used every day for years to come.
Filippi 2x

Boy do we wish we had before pictures of this Filippi 2x. This boat came to us, used, scratched, and beat up.
We sent it home with a custom Navy Blue and Pink paint job!
Three Vespoli 8's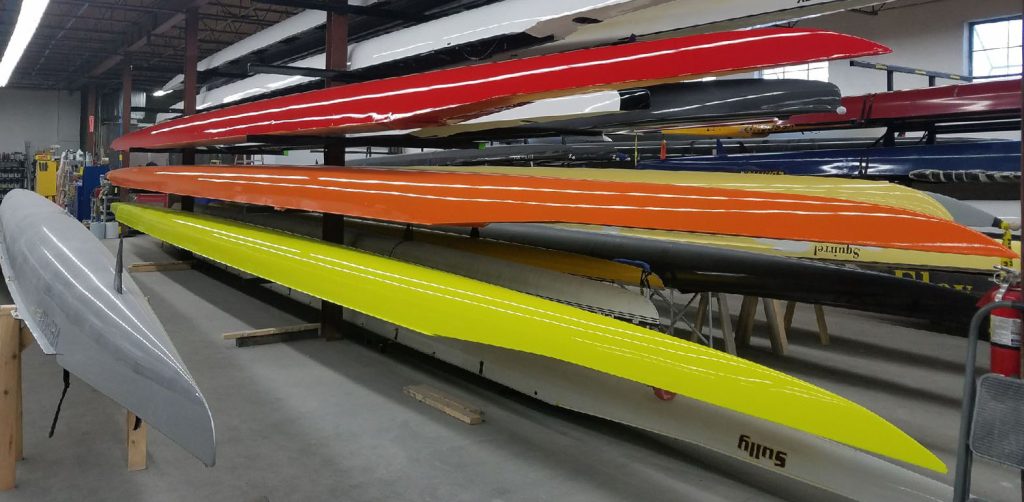 These early 2000's Vespoli's came to us with a standard Vespoli black paint job.
The program wanted to refurbish and refresh all three. After working with this program, we sent them home with three of the brightest, electric colors we have ever painted boats!
Vespoli 8's

Both of these boats are 2008 Vespoli's. One side mount and one wing rigger. Both of these boats were sold as used boats but included custom paint jobs. When they left our shop, they looked like brand new boats!
Hudson 1x

Take a close look at that before picture. It badly needed some love. After a couple repairs, we gave this boat a custom blue paint job, complete with a custom silver stripe that runs the entire length of the boat.
Swift 2x

This Swift 2x is a training boat that was used and abused. It needed a serious bow repair, and about 10 areas of damage repaired. Once the repairs were done, we gave it a custom paint job and deck stripe to match the rest of the teams fleet!
Peinert 1x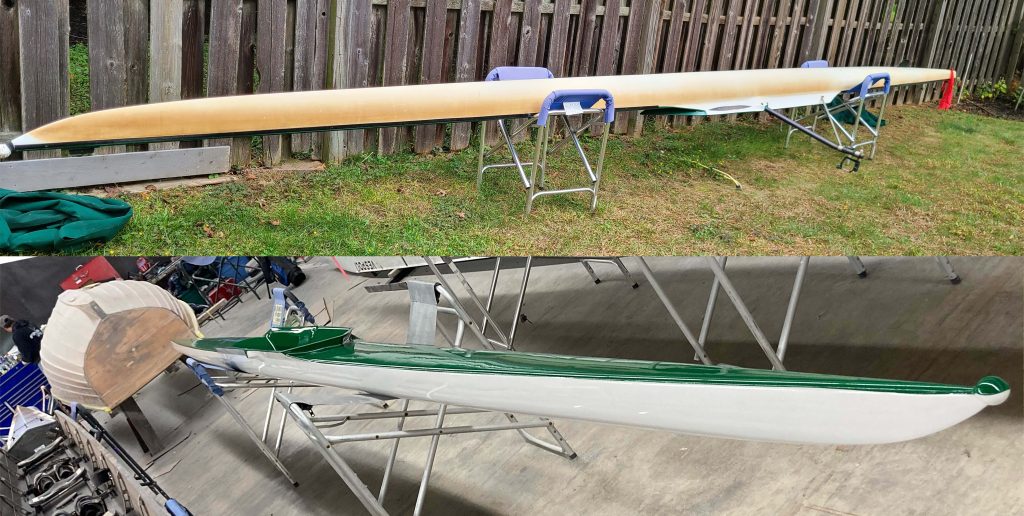 Over time, a boats gel coat will break down and start to absorb dirty water, turning the boat brown. This 1x has plenty of life in it, but it was just ugly. We stripped the boat down and made it look like it was just out of the factory!
Pocock 2x
When we got this 30 year old Pocock 2x, it was used and abused. It was rowed regularly, and had a number of dings, dents, and scratches. The owner of this boat asked us to make it look like a new boat, and asked us to give it a 'Ferrari' paint job.
This boat left the shop looking better than it did when it left the Pocock factory all those years ago. New custom paint job, complete with a new matte black interior make this boat a very special refurbishment.